Monster of the Month this month is Slob....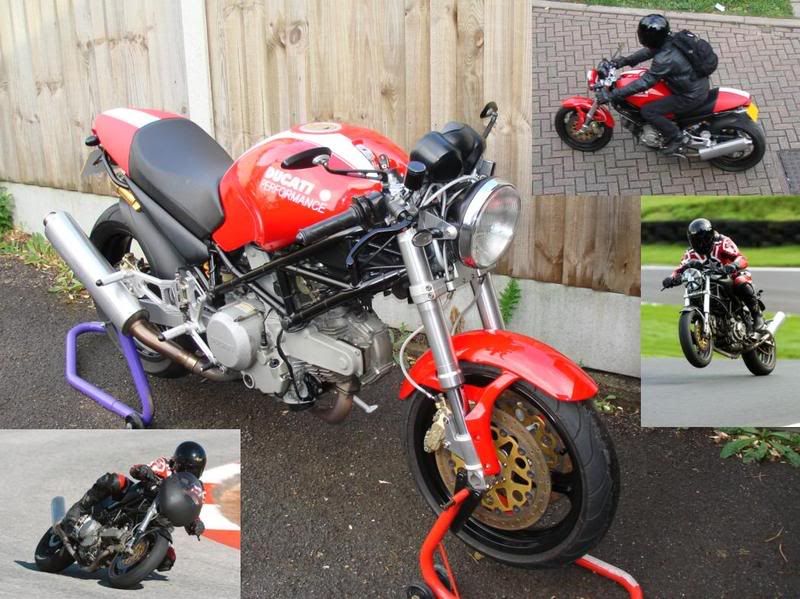 Hi, I'm Rob (AKA: slob), I've been a member of the UKMOC since getting my '02 620 dark in July 2003.
I've long been a V-twin addict and love tinkering, I used to work as a bike mechanic and have spent the last three summers spannering for other club members (Phoenix, Zimbo, Gilps and Harriebird) in the DSC's Desmo-Due race series. So far the list of modifications includes:
Twin floating front discs from a 916SPS, twin front calipers, Brembo radial master cylinder.Goodridge braided hoses all round, clip-ons, Speedymoto top yoke, billet indicators, mirrors & sprocket cover, 916 sidestand, S&P rearsets, ultra-lite rear disc, Remus cans, S4 forks and Ohlins Shock, a few home made brackets as well as a load of stainless & titanium fasteners.
I also fitted a Datatool Snitcher SMS alarm/GSM tracker. You've gotta love eBay!
I'm also a bit of a trackday addict and sadly flipped the bike at Mallory Park last year, damaging the red bodywork and matching seat cover you can see in the photos, so it's undergoing another metamorphosis. It's always been a work in progress and a modified clutch master-cylinder, S4R oil-cooler & alloy swingarm are on the cards along with the cosmetic repairs.
Maybe even a 1000/1100ie motor too, if I can find one at the right price.
I'll see you around for rideouts this summer if you're out and about although I may be riding the M1000Sie I bought to ride while I fix up my beloved 620.